The 'Ōhi'a Lehua tree is one of the most common trees in Hawai'i. Almost always the name 'Ōhi'a refers to the tree and Lehua to the flower - though technically Lehua can refer to either the tree or flower. The Red Lehua flower is the official flower of the Big Island.
The tree itself comes in many sizes... from tall towering trees 40 to 60 ft tall, to small shrubs only knee high. The flowers are almost always red, though yellow, salmon, pink and white varieties can be found.
The wood of the tree itself is a hard wood and can be used in furniture and for flooring, though modern use of the wood is rare. The leaves of the tree can also differ from tree to tree. Some leaves are smooth, while others hairy. Leaves tend to be rounded and somewhat narrow and fairly stiff.
Many 'Ōhi'a drop aerial roots from their branches. These roots do not reach the ground but stay suspended, collecting moisture from the air. The trees tend to prefer wetter areas but grow just about anywhere, including dry regions, from sea level up to 7,000 ft. In fact, 'Ōhi'a Lehua is so versatile and hardy that it will populate a new lava field within 100 years.
The 'Ōhi'a Lehua In Hawaiian Mythology
Picking of the Lehua flowers can cause it to rain.
The 'Ōhi'a Lehua In Ancient Hawaiian Medicine
Both the bark and the young red leaves were used in various medicinal preparations.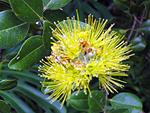 A rarer Yellow Lehua

A very rare salmon Lehua

Flowers just before opening

Close up of the leaves

Aerial roots gather moisture