The Naupaka Kahakai is one of eight types of Hawaiian Naupaka - and the only one that can be found elsewhere in the world. The name Naupaka Kahakai literally means naupaka by the sea and indeed this plant is extremely common along most shorelines on the Big Island.
The Naupaka Kahakai has thick pulpy leaves that are a light green color. Leaves cluster outward from the stem. The flowers are small and whitish flowers with light purple streaks; they are interesting because they have petals only on the lower half of the flower. While the plant can grow up to 10 feet, most stands are wider than they are tall - often 15 to 20 feet wide and thick and 3 to 5 feet tall.
Interestingly enough another type of Naupaka grows in the mountains. The flower looks identical to the Naupaka Kahakai but the extensions are only on the upper half, just the opposite from the Naupaka Kahakai. This interesting difference is highlighted in the following local myth:
The Legend of Naupaka
It is said that two lovers, greatly devoted to each other, came to the attention of the Goddess Pele. Pele found the young man desirable and appeared before him as a beautiful stranger. But no matter what Pele did the lovers remained devoted to each other.
Angered, Pele chased the young man into the mountains, throwing molten lava at him. Pele's sisters witnessed this and to save the young man from a certain death they changed him into the mountain Naupaka. Pele immediately went after the young woman and chased her towards the sea - but again Pele's sisters stepped in and changed the young lover into beach Naupaka.
It is said that if the mountain Naupaka and beach Naupaka flowers are reunited, the two young lovers will be together again.
You can find Naupaka Kahakai all over the island along the coast. Some good examples are at Honolulu Landing along the Honolulu Landing to Kumukahi Lighthouse Scenic Drive.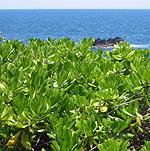 Stand Of Naupaka

Close Up Of Flower

Flower in Leaves