The Star Apple tree is a large and striking tree. It can grow to heights of 50 ft and has firm glossy green leaves, two inches wide and 5 to seven inches long, that have a silky golden color on the underside. Though originally from Central America it is grown throughout the tropics including the West Indies and Philippines, the Star Apple is also called Caimito throughout much of the world.
The Star Apple produces a fruit that is about the same size as an apple. There are two species of Star Apple, one producing a fruit with a deep purple skin, the other a fruit with a light green skin. A single tree can produce hundreds of fruit and indeed, my own Star Apple tree lost two huge branches this year due to the large number of fruit on each branch. Fruit is ready to pick when gently squeezing you can feel the skin has lost a bit of firmness.
Star Apple gets its name from the star pattern that can be seen by slicing through the fruit horizontally. The fruit has sweet white flesh that surrounds large black seeds. While the skin is not edible, the fruit and seeds are both edible. The fruit tastes very much like a cross between custard and an apple and can be used anywhere you would use other fruit, or enjoyed raw, fresh from the tree.
Star Apple Sorbet
3
cups
Ripe star apple, seeded and mashed
1
cup
Sugar
2
cups
Water
Preparation:

In a sauce pan bring sugar and water to a boil. Reduce the heat to simmer and stir until sugar has completely dissolved and water appears clear. Cool completely.

Place the cooled sugar water into an ice cream maker, add the Star Apple and process until the mixture freezes. Place in fridge till set.

If you do not have an ice cream maker, mix all ingredients and put them into a plastic container. Freeze until partially set then beat thoroughly and freeze over night.

Top of Star Apple leaves

White flesh with black seeds

Ripe fruit must be picked.
It will not drop to the ground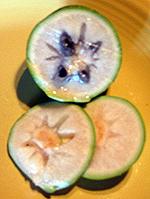 Star pattern when cut in half

Golden underside of leaves